Outstanding audio mastering and mixing, with full current compliance on international broadcast & streaming standards. More than 25 years of top flight commercial experience will get you results that no automated service can even measure – let alone reproduce.
Full Official Apple MFiT Compliance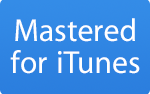 Get your tracks certified 'Mastered For iTunes' (MFiT) compliant & sounding great wherever they're played – vinyl, club systems, streaming services, radio etc.
#1 Mixes, Masters and Production!
Trust in a proven track record of Major and Indie chart success. Karl has charted globally at #1 as artist, writer, performer, producer, mixer and mastering engineer. A unique, 360 degree perspective of sonics and art – pristine polish, perfect punch.

Free Expert Mix Advice
Smart artists/ producers get it: if you want the best masters, you need someone who can mix – and you can't mix properly now unless you understand how mastering will affect the mix. It's a no-brainer. Find someone who's pro at both.
if you want your tracks to stand up against the very best in the world, trust someone who consistently proves they can mix & master at the highest level. Check the credits, not the slick marketing.

Simple, Fixed Fee Workflow:
Initial free consultation. How do you hear your mixes? Let's find reference tracks from the very best in the world. Agree a fixed fee quote . No up-selling extra formats.
Draft the masters
Happy? Yes > goto 3, No >Tweak your mixes> goto 1
Download your full set of compliant 24bits, 16bits. mp3s, DDPs, wavs, FLACS and whatever else you need